Mental Health & Counselling Services
Leveraging HealthServe's medical expertise, our multi-level mental health program was launched in 2019 and is the first-of-its-kind in Singapore, aimed at supporting the mental and emotional well-being of the migrant community.
Providing a full range of services from large group psychoeducation workshops to individual counselling sessions with native-speaking qualified counsellors, HealthServe's Mental Health & Counselling Services (MHCS) works towards addressing, strengthening and empowering the mental wellbeing of migrant workers. We work together with government agencies, hospitals, industry associations and dormitories to provide holistic care for the migrant community.
Participants of mental wellness workshops
Workers supported through helpline
Peer Support Leaders trained
Three Pillars of Mental Health Services
We offer mass psychoeducation sessions conducted in the native language of migrant workers at their worksites, as well as formal skills workshops for employers, supervisors and managers.
To address workers' mental health issues and provide support in their native languages, we operate a 24-hour crisis helpline +65 3129 5000, where both migrant workers and concerned stakeholders may reach out for assistance anytime.
HealthServe's team of native-speaking qualified counsellors have been supporting referrals from ministries, employers and healthcare facilities. They have been working in collaboration with external and internal parties to provide psycho-emotional support to migrant workers.
When was the last time you had a thoughtful conversation with someone you cared about?
As a small non-profit organisation that is big on holistic health, we recognise the impact social connection (or the lack thereof) can have on one's mental wellbeing. That's why we created Caring Cards to start conversations within our migrant community.
Hear From Our Community
If we visit [private] clinics, the consultation fee is high and there's a language barrier, they can't understand me. That's why I came here. For those people from my hometown with fevers or headaches, I will recommend them to come here.
Guo
Construction worker from China
HealthServe has made me feel more secure about being in a foreign country and reminded me not to be afraid or lonely in case I need medical or emotional support.
Rona
Shipyard worker from Bangladesh
I thinking, I no makan but no die, maybe HealthServe come from God to help me.
Dipu
Construction worker from Bangladesh
HealthServe saved my life.
Jiang
Waste management worker from China
What I'm most grateful to HealthServe for is... showing me a direction to work towards, whenever there is something I don't understand. And when we don't receive our rightful compensation, HealthServe mediates for us with the government and our employers.
Dong
Construction worker from China
HealthServe has been really helpful to me, especially with my medical expenses and issues
Dinesh
Factory Worker from India
Everyone here is really friendly and nice, and is always willing to offer a listening ear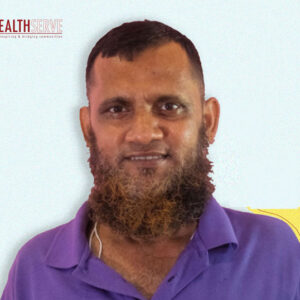 Ali Jamat
Excavator Operator from Bangladesh