Medical & Dental Services
Healthcare is the heartbeat of HealthServe. Each year, thousands of migrant workers walk through our clinic doors. Our community medical and dental clinic is located in Geylang.
Our clinics offer subsidized health services to migrant workers with inadequate health assistance. We charge a flat fee of $8 at our GP clinics and $15 for dental services for both consultation and medication. However, fees are waived for migrant workers who are Special Pass holders or those who have been referred by other partner NGOs.
On top of providing low wage migrant workers access to affordable medical and dental care, we also offer bi-weekly specialist orthopaedic, dermatology and rehabilitation consultations in occupational therapy, physiotherapy, chronic disease management and traditional Chinese medicine (TCM).
Chronic disease consultations
Occupational and Physiotherapy sessions
Hear From Our Community
If we visit [private] clinics, the consultation fee is high and there's a language barrier, they can't understand me. That's why I came here. For those people from my hometown with fevers or headaches, I will recommend them to come here.
Guo
Construction worker from China
HealthServe has made me feel more secure about being in a foreign country and reminded me not to be afraid or lonely in case I need medical or emotional support.
Rona
Shipyard worker from Bangladesh
I thinking, I no makan but no die, maybe HealthServe come from God to help me.
Dipu
Construction worker from Bangladesh
HealthServe saved my life.
Jiang
Waste management worker from China
What I'm most grateful to HealthServe for is... showing me a direction to work towards, whenever there is something I don't understand. And when we don't receive our rightful compensation, HealthServe mediates for us with the government and our employers.
Dong
Construction worker from China
HealthServe has been really helpful to me, especially with my medical expenses and issues
Dinesh
Factory Worker from India
Everyone here is really friendly and nice, and is always willing to offer a listening ear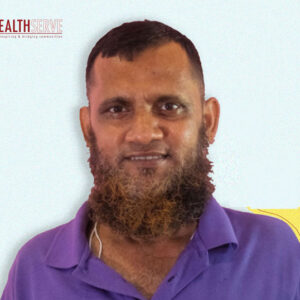 Ali Jamat
Excavator Operator from Bangladesh