#ManyHelpingHands fundraising campaign launched to keep migrant workers' medical fees low amid COVID-19 pandemic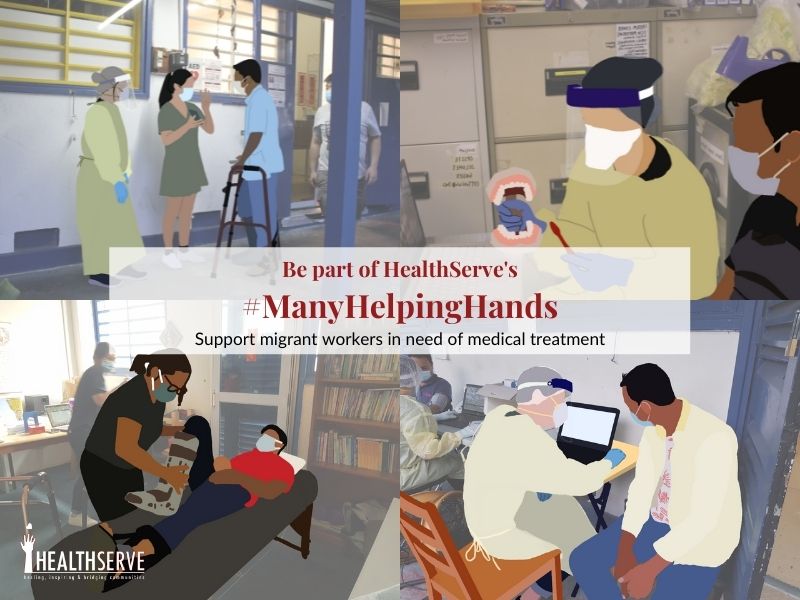 Did you know that 50% of migrant workers who visit HealthServe's clinic suffer from at least one chronic medical condition?
To support this disadvantaged community's growing needs and keep their medical fees low, HealthServe has partnered Republic Polytechnic (RP) to launch a fundraising campaign titled #ManyHelpingHands to raise funds for the rising number of migrant workers in Singapore in need of proper medical care.
Since COVID-19 hit in 2020, HealthServe has expanded and extended its services and reach to meet the multifaceted needs of migrant workers who continue to be affected by the pandemic. This includes migrant workers who suffer from chronic medical conditions such as hypertension and diabetes; are in need of urgent dental care; as well as those who require rehabilitation therapy to recover from workplace injuries. The closure of international borders from the pandemic has put an abrupt stop to migrant workers' more affordable in-country medication supplies and treatment. As a result, HealthServe's Chronic Disease Management programme has seen a steady increase in demand in the past two years. The waitlist to see a dentist has also grown to as long as five months.

As a medical NGO, HealthServe has been providing migrant workers access to affordable and holistic healthcare for the past 15 years. Medical consultations at our clinic in Geylang have been kept low – between $8 and $15 – inclusive of medications. These include chronic disease management, dental care, in-house specialist consultations and rehabilitation sessions in occupational therapy, physiotherapy, and traditional Chinese medicine. Medical fees are waived for Special Pass holders, who are often unable to work and earn an income.
In April 2021, HealthServe was awarded the Enhanced Fund-Raising Programme grant for Medical Services from Tote Board. This means that all funds raised through associated campaigns will be matched dollar-by-dollar, up to S$250,000.

Partnership with Republic Polytechnic to expose students to community needs
In May 2021, HealthServe teamed up with RP on an industry attachment programme that would provide opportunities for RP's Diploma in Mass Communication students to plan, design and execute an online fundraising campaign for an underserved community. It exposed them to both the evolving digital marketing landscape and the social services sector in Singapore.
With guidance from HealthServe and supervised by their lecturers, RP's team of three second-year students from the School of Management and Communication (SMC) took the lead in the conceptualisation, planning and execution of the campaign. Students were involved in aspects such as the design of creative assets across digital channels – from social media and email to the Giving.sg website – which brought a fresh perspective to the fundraising campaign.
Director of RP SMC, Tui Jurn Mun said, "Such collaborations allow our students to work on meaningful projects that impact the community. It also helps connect them to the realities of what goes on the ground and helps bring a human touch to our projects and collaborations.''
The students shared their valuable insights and key takeaways from the opportunity to work with HealthServe on this project –
"I have always championed this cause, but after learning about another aspect of migrant worker wellbeing, it made me want to do more, either by helping them through organisations or promoting this cause to others.

As a student, I never thought I could make an impact on these issues because I do not have the resources to help directly, but I am glad to know that with my skill sets which I have picked up and sharpened in school, has been used for a good cause, and a cause that means a lot to me personally. As youths, we should aim to be catalysts for change and make the world a better place for everyone."

– Felicity Oh, Republic Polytechnic student
"The most important insight that I got about the migrant worker community in Singapore is that the migrant workers should not be portrayed as "needy" or people who need to be pitied. Instead, they should be portrayed as heroes who need the support of the people. This insight was really enlightening as it changed my perspective on how migrant workers are currently being portrayed in the media and how there needs to be a change in how they are being portrayed."

– Cayabyab John Kenneth Vasquez, Republic Polytechnic student

"I realised that the pandemic has been incredibly hard for the migrant worker community. While we are all complaining about having to stay at home and discussing how high the risk of getting COVID-19 is, we fail to realise that we still have easy access to healthcare if we do catch an illness. It is incredibly difficult for some migrant workers to even have that privilege because they don't have the pass to do so. Secondly, I also realised that they have fears just like you and I, but they choose to make work a priority rather than their health because they have to provide for their families. As members of society, we should take the initiative to seek out these organisations and offer any sort of help we can. It doesn't have to mean taking the time out to volunteer or donate money, but it can be as simple as sharing a good cause with your peers. I believe spreading awareness can be more powerful than any monetary value out there because the more people know about a situation, the more people who do have the capabilities required to help, will lend a helping hand."

– Aisha Hasan Malik, Republic Polytechnic student

"HealthServe is glad to embark on this partnership with Republic Polytechnic which introduces youths to the important work done by non-profit organisations, that seeks to uplift marginalised groups such as the migrant worker community in Singapore," shares Choy Peng Wah, HealthServe's Fundraising & Engagement Chairman.

"RP's talented students have been a joy and inspiration to work with, bringing fresh perspectives to engaging younger audiences digitally. I look forward to seeing them step up as our leaders of tomorrow to champion a more inclusive society, where every migrant worker gets to live a life of health and dignity."


Here is how you can help:

1) Support migrant workers' healthcare needs by donating to HealthServe's medical services today. All funds raised through this campaign will be matched dollar-by-dollar by Tote Board, up to S$250,000. Your generous support will go twice as far.

2) Should you know of any migrant worker in distress, or anyone who wishes to seek assistance for migrant workers, call HealthServe's 24-hour crisis helpline for support: +65 3129 5000

3) To find out more on volunteering with HealthServe, visit www.healthserve.org.sg/volunteer-application or connect with us for other opportunities.