Casework & Social Services
Casework Support
HealthServe provides casework support to migrant workers with work injury claims and legal, criminal or employment-related issues. Each year, we assist on hundreds of cases.
Our caseworkers follow up on each case closely, even accompanying workers to the hospital for their checkups and medical assessments. With the help of the Ministry of Manpower, hospitals, pro bono lawyers and other community organisations, we are working towards creating a Singapore where everyone is treated fairly.
Social Services
For many workers, the waiting period for work injury compensation or dispute resolution may last several months to more than a year. During this period, workers on Special Passes are not allowed to work and receive no income.
It can be difficult for them to afford daily necessities such as food and lodging. To meet these needs, HealthServe offers a variety of social assistance programmes to these unemployed migrant workers, including free meals, subsidised transport and an emergency fund.
Outreach & Engagement
We aim to build a community where migrant workers feel accepted and supported. We partner with community organizations, corporations, and churches to host community events for our migrant workers. From outings to a fun and meaningful celebration of Father's Day or festivals such as Deepavali, these events never fail to put a smile on the workers' faces.
We also continue to reach out to migrant workers in their dormitories to befriend them, provide essential goods and inform them of their rights and the resources available to them.
Cases of social assistance rendered (in meals, groceries, phone and transport top-ups)
Financial assistance disbursed (in cash/kind)
Workers engaged through outreach events
Workers engaged through health screenings
Care packs distributed to workers under quarantine
Social assistance disbursed (in care packs)
Hear From Our Community
If we visit [private] clinics, the consultation fee is high and there's a language barrier, they can't understand me. That's why I came here. For those people from my hometown with fevers or headaches, I will recommend them to come here.
Guo
Construction worker from China
HealthServe has made me feel more secure about being in a foreign country and reminded me not to be afraid or lonely in case I need medical or emotional support.
Rona
Shipyard worker from Bangladesh
I thinking, I no makan but no die, maybe HealthServe come from God to help me.
Dipu
Construction worker from Bangladesh
HealthServe saved my life.
Jiang
Waste management worker from China
What I'm most grateful to HealthServe for is... showing me a direction to work towards, whenever there is something I don't understand. And when we don't receive our rightful compensation, HealthServe mediates for us with the government and our employers.
Dong
Construction worker from China
HealthServe has been really helpful to me, especially with my medical expenses and issues
Dinesh
Factory Worker from India
Everyone here is really friendly and nice, and is always willing to offer a listening ear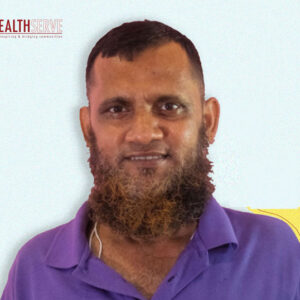 Ali Jamat
Excavator Operator from Bangladesh