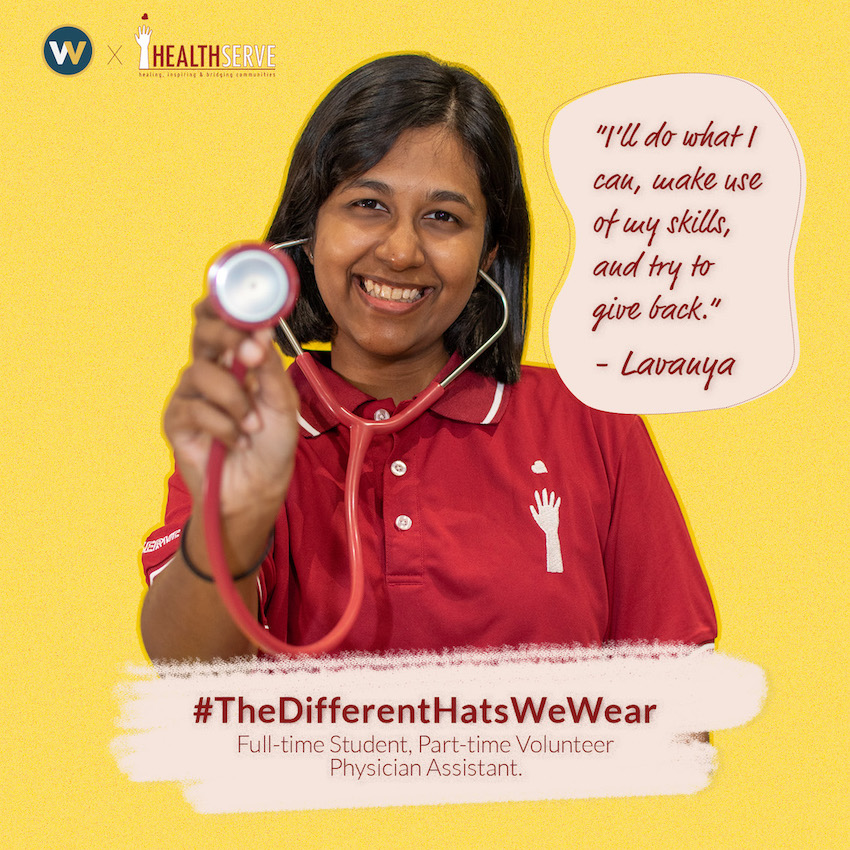 Full-time Student, Part-time Volunteer (Physician Assistant)


What would you do if your plans got disrupted by COVID-19?

To 24-year-old Lavanya, a fifth-year medical student based in China when the virus first struck, the answer soon became clear.

She packed her bags and returned home to Singapore in January 2020 at the height of China's battle with COVID-19. With classes shifted online, she had time to spare and wanted to spend it helping a community that was affected by the pandemic.

"Volunteering has always been a part of me. It's something that I've been doing since I was young," she shares.
When a friend who was a former HealthServe intern shared about the opportunity to volunteer at a clinic for migrant workers, she jumped at the chance.
At the HealthServe clinic located in Geylang, Lavanya volunteers as a Physician Assistant.

She assists in volunteer doctors' teleconsultations, a new norm in HealthServe's clinic operations since the tightening of movement restrictions imposed on healthcare professionals. This hybrid model has allowed HealthServe to continue supporting workers' medical needs, despite the drastic drop in volunteers.

Equipped with knowledge and skills from years of medical school, Lavanya is trained to provide care and conduct physical examinations for patients, under doctors' close guidance. She lets on that soft skills are the most crucial in providing the best treatment for her patients.

"I have to break down medical terminology into really simplified phrases. When I asked them, 'Brother, have you lost weight?', they would stare at me blankly. I thought, okay, I'll change it to 'Brother, has your shirt gotten loose?' I really have to think of different ways to get the message across."

"Drawings really help. I usually draw to explain to them what's going on. For example, for sinus problems, I'd draw a nose, show them what a sinus looks like, and then they try to describe where the pain is. I would write a pain scale in Bengali and draw a smiley face and a sad face, to ease the communication between us."

Lavanya shared that it isn't difficult making time to volunteer weekly. Before each shift, she ensures that she catches up on her studies so that she can volunteer wholeheartedly without being distracted.

"I happen to love planning," she reveals with a laugh. "I have daily planners, weekly planners and monthly planners. I feel that if you really want something, you can plan your time to work around it. It's about the small steps."

While Physician Assistant roles like hers require medical background knowledge, other internship and volunteering opportunities do not. Lavanya suggests contributing in other aspects such as joining HealthServe's communications team or helping out with wellness events and activities organised by HealthServe.

"It's limitless, just use your passion and do whatever you can. The workers really appreciate anything and everything."
"I think it was the Dalai Lama who said, 'If you think you're too small to make a difference, try sleeping with a mosquito.' I think that's a very powerful quote. No matter how small (an action), just go and do it."

For a lean non-profit NGO like HealthServe, every volunteer's contributions go a long way in supporting our migrant community. To find out how you can be a volunteer like Lavanya, click here!
𝘉𝘳𝘰𝘶𝘨𝘩𝘵 𝘵𝘰 𝘺𝘰𝘶 𝘪𝘯 𝘱𝘢𝘳𝘵𝘯𝘦𝘳𝘴𝘩𝘪𝘱 𝘸𝘪𝘵𝘩 𝘞𝘦𝘦𝘝𝘰𝘭𝘶𝘯𝘵𝘦𝘦𝘳, 𝘢 𝘴𝘵𝘶𝘥𝘦𝘯𝘵-𝘭𝘦𝘥 𝘰𝘳𝘨𝘢𝘯𝘪𝘴𝘢𝘵𝘪𝘰𝘯 𝘧𝘳𝘰𝘮 𝘕𝘢𝘯𝘺𝘢𝘯𝘨 𝘛𝘦𝘤𝘩𝘯𝘰𝘭𝘰𝘨𝘪𝘤𝘢𝘭 𝘜𝘯𝘪𝘷𝘦𝘳𝘴𝘪𝘵𝘺's 𝘞𝘦𝘦 𝘒𝘪𝘮 𝘞𝘦𝘦 𝘚𝘤𝘩𝘰𝘰𝘭 𝘰𝘧 𝘊𝘰𝘮𝘮𝘶𝘯𝘪𝘤𝘢𝘵𝘪𝘰𝘯 𝘢𝘯𝘥 𝘐𝘯𝘧𝘰𝘳𝘮𝘢𝘵𝘪𝘰𝘯.