Have you ever lost a colleague at work?
A group of migrant workers in Singapore did, after their peer collapsed due to an unfortunate cardiac arrest. One of them got in touch with HealthServe via our 24-hour crisis helpline.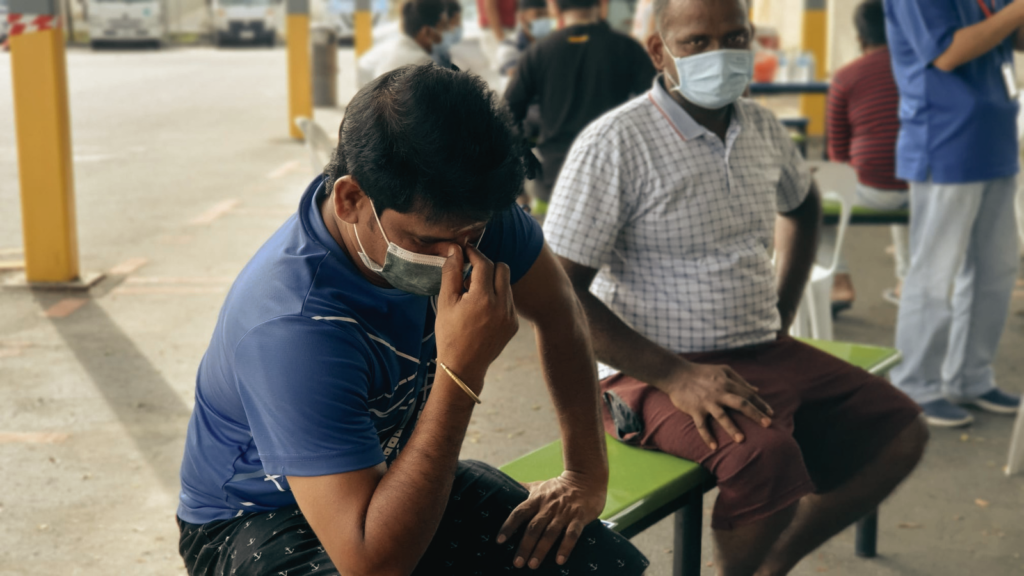 Recognising their signs of grief, our counselling team arranged to conduct grief psychotherapy to support the group of 37 migrant workers.
The workers felt a complex mix of emotions, ranging from sadness to anger. Many were also receiving counselling for the first time.
Our counselling team tailored the activities to better suit their needs. In small groups, our counsellors led the workers through various exercises from deep breathing to progressive muscle relaxation.
One of the workers, who was a close witness to the incident, was experiencing grief for the first time in his life. Before the session, our counsellor observed him to be in a state of shock, where he had found it difficult to express his mixed emotions. The worker later shared that the session was eye-opening for him as it helped normalise the complex emotions he had been feeling for days.
Noticing another worker who was particularly silent and sad at the start of the session, another of our counsellors, Durga, approached him privately.
The worker shared that "being a man, as the head of the household," he couldn't show his sadness around his peers and colleagues.
Durga worked with him to process his emotions, giving him "permission" to grieve and emote, while explaining how that actually helps to cope with traumatic grief.
Thankfully, the worker shared that he felt better after talking his feelings out. After lunch, he even approached Durga to share a packet of chocolate!
If you know of a migrant worker in need of assistance, call HealthServe's 24-hour Crisis Helpline at +65 3129 5000.