Collaboration between medical NGO HealthServe and NUS gathered over 120 volunteers to attend to the workers' growing oral health needs.
Singapore, 29 May 2022 – To address migrant workers' growing yet underserved dental care needs, medical NGO HealthServe collaborated with the NUS Faculty of Dentistry (NUS Dentistry) and the NUS Saw Swee Hock School of Public Health (NUS Public Health) to hold Singapore's first Migrant Workers' Dental Screening and Health Education Fair on Sunday, 29 May. Held at Terusan Recreation Centre, 400 migrant workers, many of whom were presenting dental problems, came to have their teeth and gums checked by volunteer dentists, at no cost.
Amidst prolonged movement restrictions for the migrant community in the past year, HealthServe has seen an increase in demand for affordable healthcare services by low-wage migrant workers, particularly in the area of dental care. Some migrant workers have had to wait up to four months to see a volunteer dentist at HealthServe's Geylang clinic. This is despite HealthServe doubling its dental clinic capacity in end-2021 that has allowed its medical team, comprising staff and volunteers, to see up to 40% more dental patients this year.
Encompassing two main segments – free dental screening and oral hygiene education for migrant workers – the event on Sunday was supported by a team of over 120 volunteers from the three organisations who shared a joint commitment in enhancing early preventive care to improve oral health of migrant workers. Volunteers took on different roles, for example volunteer dentists who screened workers for oral diseases to undergraduate students from NUS Dentistry who assisted with the dental screening and also provided oral hygiene education to the workers.
Workers who required more complex follow-up treatment were referred to HealthServe's dental clinic in Geylang which operates every Tuesday, Wednesday and Thursday night. Migrant workers need only to pay a flat fee of $15 for consultation, treatment and medication[1]. Fees are waived for Special Pass holders[2].
Islam Shariful, a migrant worker from the processing sector, said, "The dental check-up is very good! This is my first time seeing a dentist in my life. From this check, I found out that I have tooth decay. I also learned how to take care of my teeth."
"Early preventive care is crucial as poor oral health, besides the immediate problems of dental caries and infection, has also been shown to be associated with increased risks of chronic conditions such as poor diabetes outcomes," shared Dr Jeremy Lim, Vice Chairman of HealthServe and Associate Professor at the NUS Public Health. "Through this event, we aim to build awareness amongst migrant workers on the importance of oral health and effective self-care, and empower them in taking charge of their overall health and wellbeing."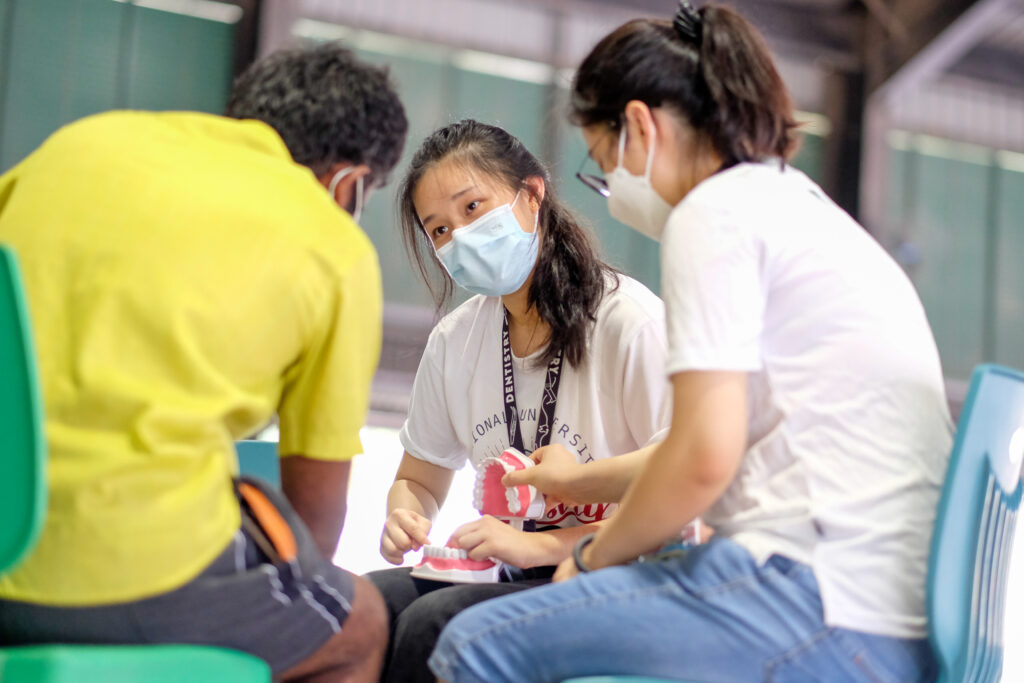 "Strengthening medical and dental support for marginalised migrant workers remains our priority, and takes a community," added Michael Cheah, HealthServe's Executive Director. "We are grateful for the support of like-minded partners such as NUS on this journey and are heartened to see more volunteers from all walks of life stepping up to bridge the growing gaps and care for our migrant friends."
Associate Professor Wong Mun Loke, Acting Dean and Vice Dean (Academic Affairs) shared, "This collaboration with HealthServe provides our students with an opportunity to bring the knowledge and skills they have learned through the formal curriculum to life. As they provide oral health education to the workers, they are also better able to appreciate the oral health concerns in the community and become more empathetic to their patients' needs in the future. Interacting with fellow volunteers in such off-campus activities broadens their exposure and encourages them to reach out and make a difference in the community as a student and later on as a qualified dentist."
Affordable dental care for migrant workers remains an underserved area in Singapore. To bridge this gap, HealthServe will continue to focus on scaling up its dental offerings, alongside partner agencies, to meet the low-wage migrant community's growing needs in the coming years.
To find out more on how to step up as a dental/ medical volunteer with HealthServe, visit: www.healthserve.org.sg/volunteer
Should migrant workers, employers or concerned members of the community wish to seek assistance for migrant workers, call HealthServe's 24-hour crisis helpline for support: +65 3129 5000
---
[1] A regular dental check-up in Singapore (est. $75 – $145) can cost up to nine times of a low-wage migrant worker's daily pay, which is about $14-$18.
[2] A Special Pass card allows a foreigner to stay in Singapore while they are assisting in investigation, work injury claims or salary claims. Foreigners who are issued Special Passes are not allowed to work in Singapore.